Swift-XRT spectra of GRB 130427A
Last updated after receiving ObsID 00554620017, version 3.
The spectral fits assume a redshift: 0.34 (GCN 14455)
Non-standard pipeline processing was used to produce these data. The pointing accuracy requirements for the first snapshot has been removed, and the UVOT-derived attitude file used.
Time-averaged spectrum (T0 + 143 to 23940 s)
Download spectral files for Time-averaged spectrum.
Plots to download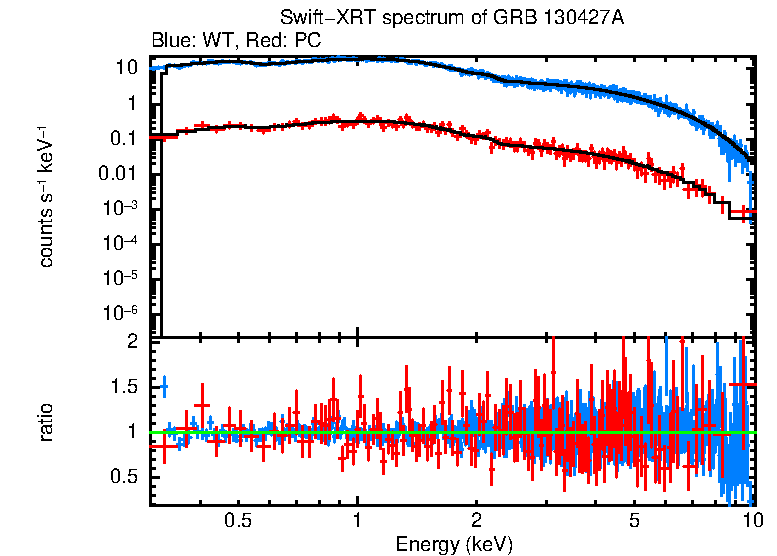 WT mode. Mean photon arrival: T0+1107 s
NH (Galactic)
1.8 × 1020 cm-2
NH (intrinsic)
7.3 (+0.7, -0.7) × 1020 cm-2
z of absorber
0.34
Photon index
1.607 (+0.019, -0.019)
Flux (0.3-10 keV)
(Observed)
7.63 (+0.10, -0.10) × 10-9 erg cm-2 s-1
Flux (0.3-10 keV)
(Unabsorbed)
8.38 (+0.08, -0.08) × 10-9 erg cm-2 s-1
Counts to flux (obs)
4 × 10-11 erg cm-2 ct-1
Counts to flux (unabs)
4 × 10-11 erg cm-2 ct-1
C-stat (dof)
1001.55 (934)
Spectrum exposure
1.9 ks
PC mode. Mean photon arrival: T0+23395 s
NH (Galactic)
1.8 × 1020 cm-2
NH (intrinsic)
1.0 (+0.6, -0.6) × 1021 cm-2
z of absorber
0.34
Photon index
1.79 (+0.16, -0.16)
Flux (0.3-10 keV)
(Observed)
2.19 (+0.23, -0.21) × 10-10 erg cm-2 s-1
Flux (0.3-10 keV)
(Unabsorbed)
2.55 (+0.22, -0.20) × 10-10 erg cm-2 s-1
Counts to flux (obs)
4 × 10-11 erg cm-2 ct-1
Counts to flux (unabs)
5 × 10-11 erg cm-2 ct-1
C-stat (dof)
264.35 (289)
Spectrum exposure
1.1 ks
---